---
J.D. Anderson, DVM
Dr. Anderson is a native to Kingman, Az, born and raised into ranching family who raised cattle east of Kingman. He attended K-12 in Kingman and graduated from Kingman High School in 1988.
Upon completion of his undergraduate studies at NAU in Flagstaff, Az, he attended Veterinary school at Colorado State University, graduating in 1995.
After graduation he practiced for 5 years in a mixed animal practice in Flagstaff. Then he moved to Greeley, Co, working in a Dairy Practice for 4 years.

In 2004 he moved back home to Kingman to practice with Dr. Zitterkopf at Manzanita Animal Hospital. He became owner of the practice in 2013

He spends his free-time keeping up with friends, family, and the many endeavors of his 3 children. He also tries to find time to explore the great outdoors.
---
---
Debbie Jean, CVT

Debbie Jean, "D.J.", was born and raised in California. After marrying, she and her husband moved to Central Oregon where they raised three children and were active in leadership for their local 4H groups.
She worked as a technician at a mixed animal practice for the last 11 years. In 2009, she aquired her Certified Veterinary Technician license in Oregon. In late 2009, she and her husband moved to Kingman. When the time requirements have been met, she hopes to pass the state test and become licensed in Arizona.
In her spare time, Debbie Jean rides and trains her Arabian and shagya horses and competes in endurance riding and gymkhana. She also trains and shows her Saluki sight hounds in conformation and coursing events. Other interests include reading, gardening, photography, hiking, and fishing.
---
Cherie Bradley, Tech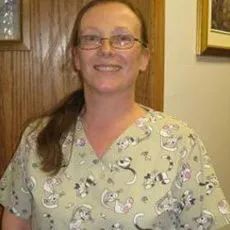 Cherie joined the team at Manzanita Animal Hospital in December of 2010. She has over 20 years of previous experience in the veterinary field. Cherie moved to the Kingman area in 2009 with her husband and her pets from northern California where she had worked for the same veterinary hospital for 12 years.
Cherie has a strong interest in dog behavior and training which was fueled by the adoption in 2011 of her Doberman Chloe. In addition, she also has several cats, some were bottle babies requiring feeding every 2 hours for their first few weeks. She greatly enjoys working with cats and has focused her continuing education on small animal dentistry, nutrition and feline behavior.
Outside of work, her interests include cooking, reading, fishing, quilting and gardening. She also makes time to do volunteer work for several animal rescue organizations in Arizona and Nevada.
---
Debbie Martinez, CVT
Debbie spent her early years in Wyoming and came to Kingman with her parents and siblings when she was ten. She has been making an impact in the Veterinary field since 1998, gaining her CVT in 2005. She continues to reside in Kingman with her husband, two children, two cats, two chinchillas, dog and sugar glider.
She has been sharing her talents with the Western Arizona Humane Society fostering kittens before they find their forever homes. She has been volunteering her time with these special cases since 2013.
In her free time she spends time with her family and enjoys baking, sewing, camping, as well as the many extracurricular activities of her children.
---
---